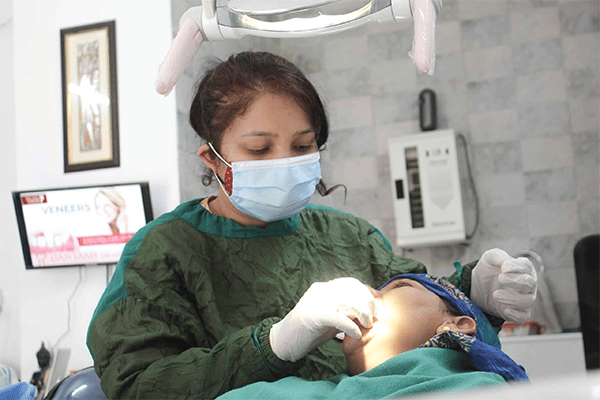 Wishing for a healthy mouth with a beautiful smile, now is the time to get it. Schedule your appointment with Dantaah for your regular oral examination today. At Dantaah, our Experts are all ears to every patient.
We are a highly specialized dental clinic where experts from every area of dentistry join together to treat patients with specialized care. With years of experience, our doctors can give you the smile you were waiting for.
Our Team specializes in Root canal treatment, Dental Implants, Surgical Extractions, Smile Makeover, Oral Cancer diagnosis, Hair transplant, and Tobacco Cessation. We are dedicated and committed to helping you maintain your dental health by providing team-based, comprehensive, and advanced dental care for everyone from newborn to old age.
Our friendly, skilled and qualified professionals help you take an informed decision about your oral health, making your every visit pleasant and comfortable. In the clinic, the strictest hygienic standards are observed.
A personal consultation with the doctor is the best approach to determine which treatment alternatives will work the best for you because every individual is different and has different needs. Dantaah, is thus, a one-stop solution to all your dental problems.
Cosmetic Dentistry Treatment in Ahmedabad
One of the newest and most cutting-edge areas of dentistry is cosmetic dentistry treatment in ahmedabad, which involves the use of skills, knowledge, technology, and art by modern orthodontic.
Root Canal Treatment, Wisdom Tooth Removal, Smile Makeover, Dental Braces, Dental Fillings, Dental Implants, Hair Transplant & Hair Fall, Jaw Fracture and cosmetic oral surgery are a few examples of cosmetic dental procedures or modern orthodontic treatment in ahmedabad.
At Dantaah, we prepare mock models and diagnostic casts and employ computerised designs and software, as well as intra oral. We also take exact images of teeth using extra oral digital SLRs with high resolutions, macro lenses, and ring flashes to aid in treatment planning for the finest aesthetic treatment outcomes for Malocclusion of teeth treatment in Ahmedabad.
Nowadays, dentistry involves more than just treating cavities and extracting teeth. Nowadays, a lot of people seek out cosmetic dentistry treatment, often known as "aesthetic dentistry," to enhance their look. Similar to how they could employ cosmetic surgery or even a new hairdo, they do this. The procedures can be used to contour, repair, whiten, and straighten teeth.
Doctors
Our team is specially trained in each and every type of treatment.


Materials
All of our materials are the finest available and imported from Germany, Sweden, UK and the USA.
Sterilization
Very high degree of Sterilization is maintained at Dantaah. Even Dental Chair is made of Self sterilising Besafe Technology.
Technology
Dantaah is modern well updated dental setup having latest technology and equipments.
Our Dental Specialist
Meet Our Honorable
Dental Specialist