Expert Care for Wisdom Teeth Removal in Ahmedabad | Wisdom Tooth Surgery: A Permanent Solution in Ahmedabad
During Our consultation with the patient we frequently encounter with the following questions.
They are the last tooth to erupt in the oral cavity. Usually know as 3rd Molars. They may start erupting from 16 years of age. There are total of four Wisdom tooth present 1 on each side upper and lower.
What problems does Wisdom tooth causes?
It is not necessary that wisdom tooth causes problems. If they are impacted, meaning obstructed by the adjacent tooth, bone or soft tissue, then there are chances of infection, swelling and pain.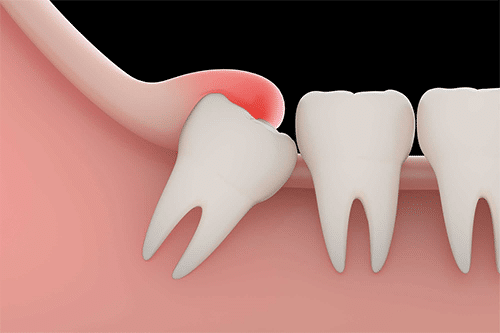 When and how to get our wisdom tooth removed?
Whenever your wisdom tooth causes problems like pain, swelling, inflammation, reduced mouth opening, they are the indication for removal of wisdom tooth.
You may get your wisdom tooth removed by the specialized Dental Surgeon, who are specialized in Wisdom tooth surgery. They are known as Oral & Maxillofacial Surgeons.
Steps to remove:
Imaging: It is very necessary to locate the wisdom tooth if not seen intraorally. Specialized Imaging can be done known as OPG. If it is erupted in the oral cavity then normal X-ray will also be useful.
Anesthesia: The surgeon injects local anesthesia at the required site to numb the area.
Remove the Tissue or bone: the surgeon then removes the soft tissue or the bone by specialized instrument which obstructs the tooth removal.
Tooth Removal: When the obstruction is cleared the surgeon splits the tooth if required, or may remove the complete by the specialized instruments.
Stiches: It is essential to place sutures for complete recovery. These sutures can be removed after 7 days once the primary healing takes place.
What is the recovery time after surgery?
We advice patient to take rest on the day of surgery. Patient can start working from the next day. We advice not to do heavy physical work for 3 days, not to chew hard and hot foods for 2 days. The recovery usually takes place within 3 days depending upon the severity and difficulty of the tooth removal.
What possible complication can we expect?
Swelling and Pain are the most common complication you can expect after the surgery. They mostly subsides after 5 days of surgery. Difficulty in mouth opening also occurs which usually subside after 3 days. Some patient may experience numbness in the area depending upon nerve involvement.
At Dantaah, we have in house Oral & Maxillofacial Surgeon, who specializes in Wisdom teeth Removal. He is also associated in the college where he trains other budding Surgeons. He is also working in other Dental Clinics as an consulting Oral surgeon not only in Ahmedabad but also in Dental Clinics in other states of India like Delhi, Uttar Pradesh and Uttarakhand.
Call us to book an appointment with our in-house Oral Surgeon.