It is a medical grade skin rejuvenation process, which is an integration of cleansing, exfoliation, extraction & hydration.
Am I the right candidate for this treatment?
It is recommended for all skin types (inclusive of ultra sensitive skin). From late teens to adults, it is one for all.
What are the expected results?
One session per month is recommended for gratifying radiant glow, reduction in fine lines & wrinkles, improved dull & pigmented skin, visibly reduced acne, acne scars & oily skin.
Although the skin looks dewy and glowing post a Hydra Facial, the treatment isn't a quick fix. Hydra Facial tends to improve skin's appearance over a time. Its effect does lasts longer than other facials or routine facials done in spa/parlour. Not only, Hydra Facial reduces skin concerns gradually, it also infuses essential anti oxidants, vitamins and hydration into the skin making it plump, radiant & even. Hydra facial is compatible with all other cosmetic procedures, suits almost every skin type (exceptions may be there), It gives visible skin results in less than 40 Mins, and it can be easily customised as per patient's specific skin concerns.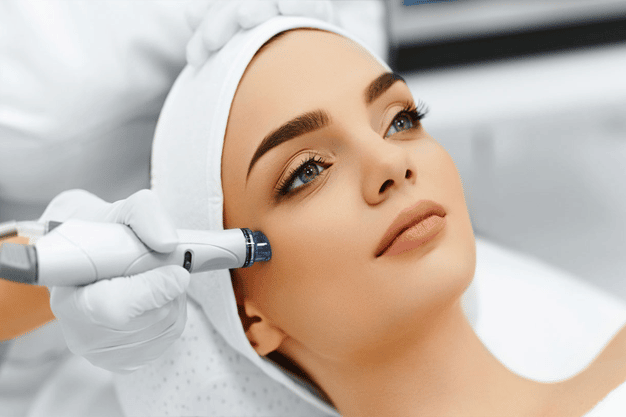 Reducing redness & appearance of acne
Targeting Bacterial growth & oily skin
Exfoliating blackheads & whiteheads
Hydrating & Delivering moisture
Nourishing skin with antioxidants & vitamins
Visibly reduced fine lines & wrinkles
Improving skin tone & texture by reducing enlarged pores
Reducing melasma (brown spots), dark spots , skin blemishes
Minimizing Sun Damage & Tanning effects
4. Bright & Radiant skin tone
Our doctors are qualified, certified and ensure to deliver all treatments offered Dantaah. During your first visit to the clinic, our doctors take a detailed history and skin concerns. Our experts then customise a treatment for your specific skin concern, give you a brief idea of the pre & post treatment care tips, to help you take an informed decision. Explore the benefits of the latest trending skin care treatment, under the safe & caring hands of our professionals. For more information & appointment contact us!!