The top hair transplant treatment in Ahmedabad is at Dantaah Clinic. It uses cutting-edge facilities and technology, adheres to hygienic guidelines and safety management, and provides the greatest hair and tooth treatments. We seek out the most cutting-edge USFDA-approved, top-tier technologies to deliver the best hair transplant treatment in Ahmedabad while still keeping costs down.
Hair Transplant & Hair Fall in Ahmedabad
Hair fall is a condition that may cause significant worry at any age. Hair loss may occur at any time in a person's life and can affect people of various racial backgrounds, ethnicities, genders, and ages. The concerning development is the enormous increase in young adults looking for Ahmedabad's top hair care services like hair fall surgery in ahmedabad, fue hair transplant treatment in ahmedabad, fue hair transplant surgery in ahmedabad and hair transplant treatment in ahmedabad. And it's not only the different hair colours and styles; people are more conscious of the need of scalp care. The finest fue hair transplant/surgery treatment in Ahmedabad is now the subject of increased research and study by some of the leading hair clinics.

Hair plays a vital role when it comes to a person's personality and appearance. Hair loss can make a person look 10 to 15 years older than his/her actual age. Hair replacement procedure can frame your face, give you your hairline back, and change your appearance for good. It can make your face look sharper, ultimately making you feel and look younger and more confident.
Hair Transplant is one of the most common and successful cosmetic procedure performed in the world.
Morden hair transplant procedure began in late 1950s.
There are 2 main methods of performing hair transplant; 
FUT (Follicular Unit Transplantation) 
FUE (Follicular Unit Extraction )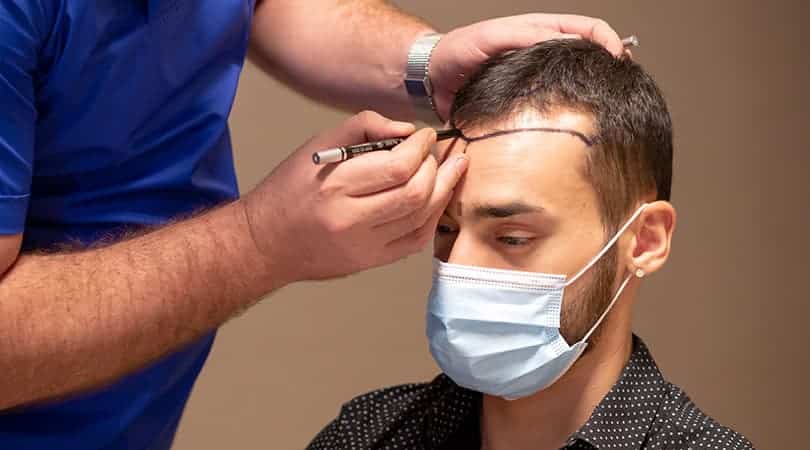 The goal here is to restore hair in a completely invisible manner. We have a team of hair experts, doctors and aesthetic surgeons who are immensely experienced and have been performing the transplant procedure for many years now. We do this by completing follicular unit extraction (FUE), with the objective of each follicle gets a completely natural orientation that is matching the natural orientation of remaining strands of hair.