Dental Implant: Dental Implant Treatment in Ahmedabad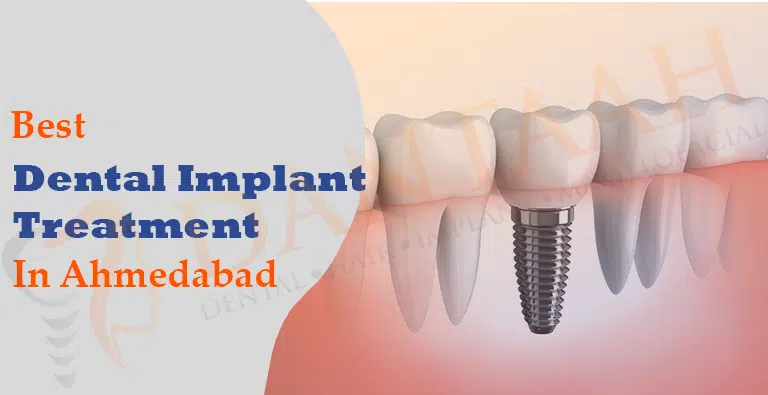 A prominent dental practise, Dantaah, is dedicated to giving patients the best possible dental treatment. It is situated in Ahmedabad, India. Dental implant treatment, a well-liked and efficient way of restoring lost teeth, is one of the clinic's offerings. Artificial tooth roots called dental implants are surgically implanted into the jawbone. They provide a sturdy foundation for replacement teeth and are an effective long-term treatment for tooth loss.
Using the most recent methods and technology, the dentists at Dantaah provide dental implant treatment in Ahmedabad, ensuring the best possible outcomes. To guarantee that patients obtain a replacement tooth that looks and functions like a natural tooth, the clinic only utilizes high-quality implants and materials.
The dental implant procedure normally requires numerous clinic visits spread out over a few months. The dentist will assess the patient's oral health and determine whether they are a good candidate for dental implants at the initial visit. The dentist will then design and carry out the surgical placement of the implants if the patient is determined to be a good candidate.
Dantaah is dedicated to giving patient-centered care in addition to dental implant treatment. The clinic's welcoming and skilled team is committed to making sure patients are at ease and informed throughout the course of their dental or cosmetic treatment.
Dental implants, a widespread and dependable alternative, can be used to replace one or more missing teeth. The procedure entails surgically inserting a metal post that will act as an artificial tooth root into the jawbone. The lost tooth is subsequently replaced by a custom-made crown that is affixed to the post.
Ahmedabad has several dental clinics that offer dental implant treatment. When choosing a clinic for dental implant treatment in Ahmedabad, it is important to consider the following factors:
Qualifications of the dentist: Make sure the dentist performing the treatment has the necessary qualifications and experience in dental implant treatment.
Reputation of the clinic: Look for a clinic with a good reputation for providing high-quality dental care and positive patient outcomes.
Cost: Dental implant treatment can be expensive, so consider the cost of the treatment and make sure you understand what is included in the price beforehand.
Treatment plan: Make sure the clinic provides a comprehensive treatment plan and takes the time to discuss the process and expected outcome with you.
Technology: Some clinics use advanced technology, such as digital X-rays and 3D imaging, to ensure accurate placement of dental implants.
Aftercare: One should make sure the clinic provides follow-up care and support after the treatment is completed.
In conclusion, there are several dental clinics in Ahmedabad that provide Dental Implant procedures. Dantaah is a fantastic choice if you're searching for a dentist clinic in Ahmedabad that offers top-notch dental implant care. Anyone in need of dental implant treatment should consider Dantaah due to its skilled dentists, cutting-edge equipment, and dedication to patient-centered care.