We offers painless Root Canal Treatment in Chandkheda, Ahmedabad at an affordable cost. Root Canal Specialist Endodontist suggests a painless root canal treatment for you.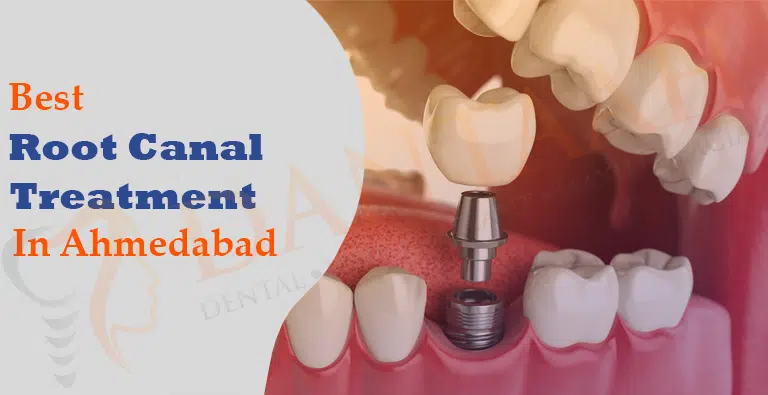 A damaged or diseased tooth may need to have a root canal treatment, which is a frequent dental operation at Dantaah Clinic. The process entails taking out the sick or damaged tissues from inside the tooth, cleaning and sanitizing the canals, and then filling the canals with a particular substance to stop future damage.
Dantaah is regarded as one of Ahmedabad's top root canal treatment providers. Modern technology is available in the clinic, which is manned by skilled and knowledgeable dentists like Dr. Prashant Malik and Dr. Ritika Malik with a focus on endodontic procedures.
Patients may anticipate a thorough and individualized approach to the best root canal treatment in Ahmedabad at Dantaah. To ensure that patients receive the finest treatment possible, the clinic provides a variety of services, such as digital X-rays, 3D scans, and modern surgical methods.
The root canal treatment process at Dantaah is performed under local anesthesia, which numbs the area around the affected tooth. The dentist will then make an opening in the tooth and remove the damaged or infected tissues. The canals are then cleaned and disinfected, and filled with a special material to prevent further damage.
After the procedure, the dentist will place a temporary filling in the tooth to protect it and will schedule a follow-up appointment to check on the patient's progress. In some cases, a permanent filling or crown may be necessary to protect the tooth and restore its function.
Dantaah Dental is a well-respected dental clinic in Ahmedabad that offers a range of dental services, including root canal treatment. Here are some of the reasons why Dantaah Dental's root canal treatment is considered to be the best in the city:
Experienced Dentists: Dantaah Dental has a team of highly skilled and experienced dentists who specialize in root canal treatment. These dentists use the latest techniques and equipment to ensure the best possible outcome for their patients.
State-of-the-Art Technology: Dantaah Dental uses the latest technology and equipment, including digital X-rays, to diagnose and treat patients with root canal issues. This technology helps the dentists to perform the procedure with greater accuracy and precision.
Comprehensive Care: Dantaah Dental offers a comprehensive range of services related to root canal treatment, including pre-operative and post-operative care, to ensure that patients receive the best possible care.
Pain Management: Dantaah Dental's dentists use a range of pain management techniques, including local anesthesia and sedation, to ensure that patients are comfortable during the procedure.
Affordable Pricing: Dantaah Dental offers competitive pricing for root canal treatment, making it accessible to a wide range of patients.
Overall, root canal treatment from Dantaah clinic is renowned for its effectiveness, accessibility, and patient-centered philosophy. Dantaah clinic is regarded as Ahmedabad's top root canal treatment facility thanks to its skilled dentists, cutting-edge equipment, and all-encompassing care. Dantaah is a fantastic option if you require root canal treatment in Ahmedabad. For the finest care possible for patients, the clinic provides a thorough approach to root canal treatment.